Software is what businesses run on these days, and companies that invest in custom application development services have a distinct advantage over those that don't because the platforms they're using are both intelligent and designed to meet specific needs.
Given that, it may seem surprising that many businesses are hesitant to even look into app development or enterprise software development. Part of the problem is that it's not necessarily clear what software development companies do beyond offering custom application development services. Companies assume that if they don't need enterprise software development or if they're relatively small, they can safely rely on commercial off the shelf software for internal and external needs.
Why Custom Development Is the Better Solution
Every industry is unique, and within each industry, businesses have to differentiate themselves from the competition to survive. Ready-made software is only customizable to a point, and isn't built to evolve. Working with a custom software development company is the only way a company can be sure that the software solutions they're deploying will integrate seamlessly with their current business processes and be able to scale when necessary. Custom application development services are more expensive at the outset, but over the long term, can cost a company significantly less because the end product is highly adaptable, extremely secure, and designed to meet a specific business need.
The Business Case for Investing in Custom Application Development Services
Before we dive into the specific services that a custom software development company offers its business clients, let's look at the value they offer.
Custom application development as a service is about more than just producing useful programs. Software development companies are actually in the business of creating digital solutions to modern business challenges. This typically involves creating bespoke software for internal or customer use, but can also include designing websites, building corporate systems, figuring out creative ways to automate processes or make employees more productive, providing technical insights that aid in business development, and supplying business intelligence that can help companies outpace the competition.
Services Offered By Custom Software Development Companies
Enterprise software development, ecommerce software development, and other forms of custom application development are multi-step processes, and each step can be its own service. Some companies will seek out custom application development services because they need an application built from start to finish while others just need help with UX design. These are the services most commonly offered by custom software development companies:
Software Consulting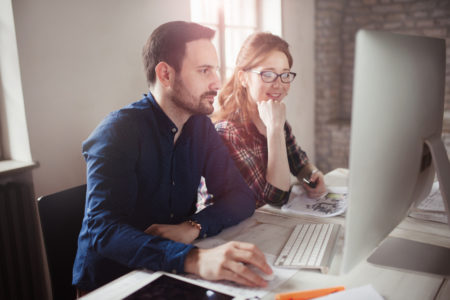 A business is facing challenges or has goals to meet, and sees that technology can offer a solution. What they can't see is the extent of software solutions that exist. Companies seek out software consulting services when they realize the need to develop a workable tech-based strategy for growth but are having trouble navigating in a rapidly-changing world of options. These consultations can ultimately provide a company with clarity and direction when it comes to how technology fits into its business objectives.
When done right, software consulting involves a deep dive into a company's process, ideas, current state, and goals so the consulting company can frame solutions that don't just address present challenges, but are also designed to be effective well into the future. Any solutions proposed will lift the value of the business and expand revenue opportunities.
Product Strategy
This element of custom application development services involves the transformation of an idea into the outline of a viable software product. This is important because custom software is an investment, and like all investments, you need to mitigate your risk as much as possible. Product strategy is all about ascertaining the scope of the product required to meet a company's objectives. What are the business' goals? What challenges need to be overcome? What does the minimum viable product look like, and what will turn that MVP into something that people want to use?
When a business works with a custom application development company on product strategy, a lot of questions will be asked and answered before the developers will do any programming or even start putting a team together. Product strategy is a hands-on experience that involves research, analysis, and above all, collaboration.
Application Development
Application development is the process of creating a program or platform that might do anything from streamlining business processes to making it easier for customers to make purchases. When most people think of custom application development services, this is what they're picturing. And yet, application development involves more than coding. Actual software development requires project management, UX design, business analysis, writing code and putting it into production, and testing to ensure that the application is responsive, scalable, reliable, user-friendly, and fast. There are phases to software development, and clients typically participate in almost all of them.
UX (User Experience) Design
Because companies need internal or customer buy-in for the software to be useful, UX design has become a cornerstone of custom application development services. Whereas UX design was once considered a nice extra, it has become an important part of the design phase. A custom software development company will not design and create any applications without understanding what a company feels users should be doing and what users are actually doing (which may be very different). The result of preliminary research will drive the development of interactive wireframes. A clickable prototype follows that can be utilized in user testing sessions that will validate assumptions — or turn them on their head.
The goal of all of the testing that goes into UX development is to create a product that users want to interact with and can use with minimal (or no) training or instruction.
Enterprise Software Development
Sometimes simple applications — whether off the shelf or custom — can no longer get the job done. Business challenges become too complex. The userbase gets too big. The existing platform can no longer handle the volume of transactions taking place. Enterprise software development is application development on steroids for those companies that need solutions that can not only meet the needs one team or one department, but of an entire organization.
The platforms built for these companies have to do more than just perform a single function. Enterprise software includes complex CRM software systems that carry out extremely complicated processes for large corporations with multiple product or service lines, accounting applications that automate bookkeeping and forecasting for businesses with large distributed inventories and cumbersome regulatory criteria, large-scale HR systems that streamline administrative tasks for tens of thousands of employees, and ERP systems that integrates systems managing core processes like sales, accounting, HR, CRM, inventory tracking, and customer support.
Mobile Design and Development
Customers and employees alike expect, at minimum, mobile-friendliness in software — if not an app. It makes sense when you consider that over two-thirds of people across the globe are now mobile device subscribers. When a company is trying to compete using software that isn't mobile optimized or built specifically for a mobile audience, it's going to be problematic. Mobile design and development helps businesses stay competitive by helping them give people what they want and expect. It is the only way to reach customers where they are, which is on the devices in their pockets and bags.
Web Development
Businesses need to be accessible online because if customers can't find it, that business won't be in business for long. On the other hand, a powerful web presence can engage customers even when a company doesn't actually do business online. Custom web development is all about leveraging advanced strategies, UX/UI design methods, and the latest technologies to create a better online experience. A great website can increase sales, make doing business easier, educate people, automate customer service, and give customers immediate access to their own data.
As noted above, not every business will invest in all of these services.
What Companies Want When They Invest in Application Development Services
Most of the time, businesses partner with custom application development services because they have an idea for a product, they need to overcome a challenge, or they want to build something better than what the competition is using. They're looking for:
Adaptability — Custom software can accommodate nearly any workflow, process, userbase, or regulatory requirements. That means it can grow as a company grows, and it is unlikely that a business will have to roll out an entirely new suite of software when their needs change.
Precision — Investing in custom application development services is a way to avoid costly future mistakes caused by vulnerabilities. Programmers create custom software with security in mind, which is important for any company that regularly handles sensitive customer information.
Automation — Repeating tasks can be real time-wasters, and automating these tasks can save companies a lot of money. A custom software development company will look for opportunities to automate workflows and integrate processes in an application.
Customer satisfaction — Custom software can do a lot of things for customers that off the shelf applications can't. Businesses that make their customers happy by investing in UX design and making ecommerce transactions faster and easier make more money.
Employee satisfaction — Software that automates repetitive processes or processes that get backed up frequently can free up workers, so they're able to focus on more productive strategic activities.
Quality control — Custom software can make it less likely that otherwise competent employees will make mistakes by taking complicated processes requiring multiple pieces of software and simplifying them. Quality control can be built in so even when mistakes happen, they're caught quickly.
Compliance — Custom applications for companies in highly regulated industries can have the necessary safeguards built right in so there's no chance of running afoul of applicable laws and guidelines.
Does every business need to run on custom software? Absolutely not. But as illustrated above, many companies — whether they are startups or operating at the enterprise level — come to realize that engineering a custom solution is the better choice.
Want to learn more about custom application development services? Take the next step and contact Bitbean today!
Let us help you build something amazing