If you've already investigated hiring a custom software engineering company, then you know that investing in custom development is a process. You'll be working closely with dedicated teams of project managers and programmers over the long haul, and you will have to commit money, time, and people of your own to the project. The alternative — licensing commercial off the shelf software (COTS) — can look like a viable and less resource-intensive alternative.
Before you choose COTS over custom development, however, you should take a look at the business case for custom development. In the short term, ready-made software solutions seem like a good deal, but when you compare the ROI of custom applications and commercial software packages, custom software almost always comes out on top. Why? Because bespoke programs created just for your business will do things that one-size-fits-all commercial software just isn't capable of.
Custom software is built to meet your exact needs, which means that when you work with a custom software development company, you're getting software that solves all of your most pressing business problems, doesn't require paying for extras you don't want or can't use, and makes it easier for your company to serve your customers.
So, let's take a look at some of the business advantages of working with a custom software engineering company to solve your biggest challenges:
1. You're Not Paying for Features You Don't Need
Can bespoke software save your business money over the long term? While custom development is typically more expensive in the short term than COTS, the total lifetime cost of ready-made software it is often higher. That's because most off the shelf software solutions will include features you don't need and will require multiple rounds of updates and upgrades (that will cost you both time and money). Custom software integrates seamlessly into your organization's existing processes, so you're going to spend less on training. One application can often replace many when you have custom software built from scratch. Saving money on training, licenses, updates, and integration is a big win when you're concerned about that bottom line.
2. Your Developer Will See Opportunities You Might Miss
During the initial stages of your custom development journey, you'll work closely with developers to help them understand every facet of your business operations, as well as your short and long-term goals. As your collaboration progresses, they'll be able to identify opportunities for automation, integration, and innovation that you may not have seen.
3. Custom Software Leaves Room to Grow
Ready-made applications often have fixed limits when it comes to functionality, the number of users supported, and integrations. While you can request new features, there are no guarantees the companies that make COTS packages will grant your request. When you work with a custom software engineering company to design and build bespoke software for your business, you can hire new employees, respond to new business opportunities, and add integrations as frequently as you need to. Investing in custom development means that your software will never inhibit your company's growth. You can expand without having to migrate your data and change your business processes every few years.
4. A Competitive Advantage Can Lead to a Big Productivity Boost
Right now, the chance that you and your competitors are using the same ready-made software solutions to run your businesses is high. What if you could work faster and more efficiently than your competitors? Bespoke software that has been specifically designed to increase efficiency and productivity can give you a huge advantage over the competition because you'll be able to do more of whatever it is you do in a shorter period. More productivity = more profit.
5. Integration Is Less Expensive and More Effective
Your company and its employees may be using a number of different software programs to get things done on any given day, and perhaps you don't want to abandon the applications that work best. A custom program built by a software engineering company can be a bridge that lets the applications you're currently using communicate with one another, potentially automating or simplifying processes that previously required a lot of time or a lot of human intervention. Rolling your current software into one integrated system can save your company time. You may also be able to avoid future software purchases because you can tweak your custom software to deal with growth or operations changes instead of licensing an entirely new software suite.
6. You Get Maximum Adaptability
Nearly any workflow or process can be accommodated when you're having software built from scratch, so you won't have to overhaul your whole business just to upgrade your software. And should your needs change in the future, you won't have to roll out an entirely new software platform (and retrain employees) because your custom software can evolve along with your company. The developer that created your software will already have a good understanding of your business, business processes, and goals.
7. Better Security Ensures You Won't End Up Paying for Costly Mistakes
Dedicated teams of programmers working to build custom software always design applications with security in mind, which is important for any business that handles sensitive customer info. Even a small vulnerability can lead to massive problems, so security conscious businesses often choose to use custom applications created by a software development company over ready-made programs that may have known vulnerabilities that motivated hackers can exploit. Bespoke software is targeted less because the code isn't widely published.
8. It's Easier to Automate Workflows
If it takes 10 employees 100 hours to do a certain repeating task, imagine what they could accomplish in that time if that task was automated. Could they sell more, produce more, or analyze more? When you work with a dev company, the team assigned to your project will find out everything they can about the workflows that drive your business, so they can identify opportunities for automation and integrate those into your application.
9. Your Innovations are Future Proof
Custom software can be a bigger investment than COTS, but that investment will invariably pay off for longer because the innovative processes, services, and interfaces that you build into your software can be updated whenever and however you need. If your competition starts to catch up, you can make modifications to your software that will keep you ahead of the pack. Even better, you and your developer can experiment with your software because it belongs to you, which means you can implement innovative concepts more quickly.
10. You'll Have Happier Customers
Happier customers are more loyal and spend more money, so if you plan to launch customer-facing software, it makes sense to invest in custom development. As discussed above, software designed by a custom software development company can do a lot that COTS can't. When you need to communicate more effectively with customers, custom software can make that happen. When you need to protect your customers' private data, custom is the way to go. When you need to process and ship a large volume of orders more quickly, custom software is the best choice.
11. And Happier Employees Who Will Feel Increased Job Satisfaction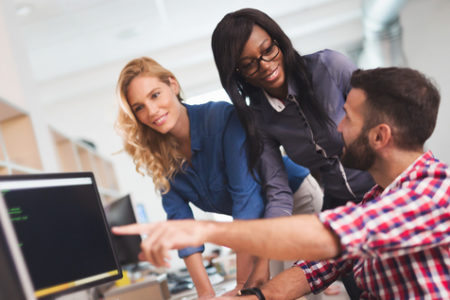 There are a number of ways a custom application can improve the employee experience. For instance, software that automates repetitive processes or processes that tend to get backed up can mean employees work fewer nights and weekends. Tedious tasks that had to be done by a human are now handled by your software, freeing up your employees to focus on more interesting strategic activities. And custom software can make it less likely that good employees will make mistakes by simplifying processes. Quality control can be built in, which means your workers can do what they do best without being over-managed.
12. Compliance Is Easier
Companies in highly regulated sectors like finance and healthcare benefit from custom software that has the applicable laws and guidelines written into it. The risk that your company will have to pay steep fines or deal with legal challenges because someone made an error or sensitive information was left vulnerable is practically zero. Your custom-built application will have the necessary safeguards built right in.
13. Support Is Always There When You Need It
Things happen, and at some point, someone at your company is going to need tech support regardless of what applications you're using. When that software has been designed and built just for your business by a custom software engineering company, you'll have a dedicated team of IT professionals ready and willing to help you solve your tech issues — often that same day. That means that even when problems do arise, you'll get back up and running more quickly.
Still not sure that tailor-made software is right for your business? We recently put together a blog post that featured seven examples of real custom software applications that were game changers for Bitbean clients. These clients run the gamut from airline catering companies to real estate firms to ecommerce companies, and the software we designed for each client was very different. What they all had in common, however, was a desire to set themselves apart from the competition and to serve their customers better.
So, what is it that you want your company's next software suite to do? Boost sales… improve customer relationships… make your business processes more efficient… or help employees do more in less time? No matter what your company's goals are right now and ten years from now, Bitbean can help your business grow with custom software solutions that are not only functional, but also adaptable and user-friendly.
We take the time to get to know every company we work with, from their unique objectives to their most pressing challenges. Everything we learn during our deep discovery period inspires and informs the software we build for our clients. Unlike most other software engineering companies, we do more than just meet your requirements. Our team will invest in your business, identifying new opportunities for growth and features that you never thought possible, so that the software you receive is everything you wanted and more.
Are you ready to build something amazing?