Artists and designers draw inspiration from a variety of sources, be it nature, movies, inanimate objects, Disney characters, and even video games! It's quite natural as we're constantly processing the world around us, imbibing great ideas that automatically come to the fore when we apply our minds at creating something wonderful. Similarly, web and app designers are always on the lookout for sources of amazing ideas for user experience designs.
When it comes to design inspiration, it's best not to limit your creativity. As they say, the world is your canvas! And among countless sources, the internet is an unlimited resource to tap into for incredible UX ideas to help you in the solution design process.
We've compiled a list of 25 virtual places (in random order) for you to draw your UX design inspiration from. Are you ready to explore these and unleash your creativity? Let's get started with some of the best user experience design blogs and websites!
25 Incredible Web Resources for User Experience Design Ideas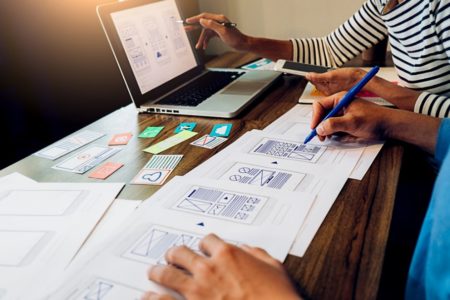 Smashing magazine is a fabulous and popular resource for web designers all over the world. Think of it as an extensive online library for information on designing web, mobile, and desktop apps. It covers various topics like web design, responsive web design, design systems, user experience, usability, and UI, to name just a few. Among other web design and development topics, it has several useful articles on various topics related to user experience design.
2. Behance
An online platform by Adobe, Behance is the world's largest online community where web, graphic, and user interface designers, among other creative professionals showcase their portfolios. It features stunning images, illustrations, and other creative projects that are a delight to look at!
3. Awwwards
Awwards is a site where web projects are submitted on a daily basis to be evaluated and critiqued by a panel of the most eminent bloggers, creative directors, and designers. It's one of the best places to find daily UX design inspiration for web design and development.
The website '52 weeks of UX' is a great place to find excellent articles related to the process of designing, especially user experience and human behaviors. It was founded by two top-notch creative professionals and designers, Joshua Porter and Josh Brewer.
A blog on professional UX design, Creative Bloq shares, inspires, and motivates visitors with daily creative tips, ideas, and valuable information on web, graphic, and 3D design. It contains a ton of resources like illustrations and blogs that are excellent for updating yourself with the latest global trends and developments in user experience design.
6. UX Mastery
UX mastery is another valuable web source for UX professionals to enhance their skills with extremely helpful tutorials and articles on UI/UX design topics. It also provides tertiary degrees in UX related fields like Information Architecture and Interaction and Digital Design, and many others.
7.  Dribbble
Dribbble, an online global designers' community, is a great resource to connect with and get inspiration from other designers. It can also be used for self-promotion and networking with other designers from various streams. Therefore, it's a great platform to showcase your creativity and make connections with other professionals in the industry. You could even use it to hire talented, creative professionals or designers.
8. Medium
One of the largest online publishing platforms, Medium features a wealth of user-written blogs, making it a great virtual place to 'hang out' with other UX designers and read or share stories. Whether you are new to UX design or a seasoned veteran, Medium hosts a wide variety of content from which readers can draw inspiration and learn new tips and tricks.
Walter Apai, a web designer from Vancouver runs Web Designer Depot, which was founded more than a decade ago. It's another fascinating place to get your daily dose of inspiration with its interesting posts, blogs, and tutorials on web design trends and best practices. It's more than a blog because it has designers who offer their expert knowledge on web and user experience design along with freelancing.
10. Boxes and Arrows
Boxes and Arrows is a site that features various types of resources like product reviews, case studies, interviews, and articles for UX designers. It covers design principles, processes, and methods of several user experience design topics like information architecture, information design, interface design, interaction design, and graphic design.
11. Site Inspire
Site Inspire is a CSS gallery and showcase that features the finest web design and interactive design work. It includes 2500 websites and you can even look for specific projects that are searchable by type, subject, and style.
12. UX Booth
Are you looking for a well-researched and in-depth publication by and for the user experience community? Then look no further. UX Booth features articles with a strong focus on UX research and interviews with some of the best UX designers.
13.  Niice
Niice is a startup that has created a mood board generator – a great tool for UX designers who want to create mood boards, which are a collage of visual elements like images and illustrations.
14.  Hack Design
If you're trying to learn the basics of UX designing or simply hone your skills, Hack Design is a great resource. They have basic to advanced lessons on the processes, methodologies, and practices of user experience design. Hack Design also has a collection of selected projects from various top-class designers in the industry. Hack Design curates these projects and carries a toolkit that includes the most popular tool used by UX designers all over the globe.
15.  The Best Designs
'The Best Designs' is another site that curates various unique websites and showcases the best WordPress themes, designs, designers, and their workspaces.
16.  UX Movement
UX Movement is an excellent source to tap into if you're aiming to increase your knowledge about UX design. In addition, it focuses on the best user experience design practices for creating extremely intuitive and user-friendly digital products.
17. UX Magazine
One of the most popular online UX publications, UX Magazine presents a wealth of diverse information on the latest UX design trends and practices in the form of interviews and articles. If your goal is to network and find an opportunity in UX designing, it's the place for you! It offers information related to UX events like workshops, seminars, conferences, classes, and even informal meetups to interact and share ideas with fellow UX designers.
18.  cc
UXDesign.cc is an extremely useful resource that features in-depth writing from several UX designers with the aim to provide varied knowledge and perspectives on the subject. It is in fact one of the largest UX-focused Medium publications that curate related content with a focus on the latest developments in the user experience design industry.
19.  UX Design Edge
UX Design Edge is a one-stop-shop for all your UX needs including consulting, training, and exceptional articles. It offers training and consulting to corporates with a view to helping them create high-quality, intuitive, simple, and easy to implement user experiences for web, mobile, and desktop applications.
20.  Designmodo
A world-renowned blog for Web Design and Development, Designmodo contains a repository of tutorials, articles, tips, and news related to the latest trends and practices in the field. Additionally, it features UI kits, web-design related plugins, and some of the best Bootstrap and WordPress themes. It also provides design services and premium products like web UI kits, icons, and graphics.
21.  UXmatters
A popular Web magazine, UXmatters, is a valuable resource for UX design inspiration and rich insights from the UX community. It publishes diverse content from many leading industry experts and fellow UX designers. It features in-depth articles on user experience strategies, popular UX practices, and future trends in user experience design.
22.  Mockplus Blog
Mockplus is not only a blog but also a fast and simple prototyping tool. It's an excellent source for knowledge on a broad spectrum of subjects like UI/UX designs and prototyping. In addition, it allows you to download various design templates and resources.
23.  UX Pond
A search engine for UX content, UX Pond is a great resource for updating yourself on the latest trends, practices, and developments in the field. Most importantly, it offers information on UX-related events like information architecture events, usability and UX conferences, and mobile UX-related events, to name just a few.
24.  Stack Overflow
A well-known programming Q&A website, Stack Overflow presents immense knowledge in the form of questions and answers from fellow UX designers and programmers on diverse computer programming related topics, including UX design software. It is the largest online community of developers and designers, making it an excellent source for sharing and acquiring programming knowledge.
25.  nForm Blog
A UX-focused blog, nForm is a great resource for UX designers as it features top-notch user experience design ideas and content. It includes tools for UX design-related topics like collaborative design, information architecture, research, and content strategy. It aims to help designers build projects that focus on developing easier, clearer, and more efficient products.
With these inspiration sources, you'll hopefully never be at a loss for UX design ideas. In fact, with the wealth of online repositories, communities, and platforms, the world has indeed become a small place, allowing easy collaboration and sharing of ideas. We highly recommend creating a digital diary of interesting ideas for easy retrieve later as it's easy for ideas to be lost in the current information age.
If you are looking to start a project involving user experience design, consider working with Bitbean, a custom software design company with expertise in enterprise software, web and mobile development, and UX design. Contact us today to speak to one of our representatives.