In the digitalized global economy, it is imperative for businesses to have an online presence. So understandably, enterprise web development is an invaluable tool for a business to gain online visibility and reach a wider audience. Enterprise web development is simply the process of developing a website for an enterprise-level company. Enterprises range from mid to large-scale businesses and organizations (governmental, for profit, or non-profit) to associations and groups (healthcare, educational, charity, or any other group with a common cause or shared interests).
Developing an enterprise website entails a massive collaborative effort with a web development company, as an enterprise website building is highly complex. In this blog, we will discuss what enterprise web development is, what it does, and most importantly, what it can do for your business.
Significance of Enterprise Web Development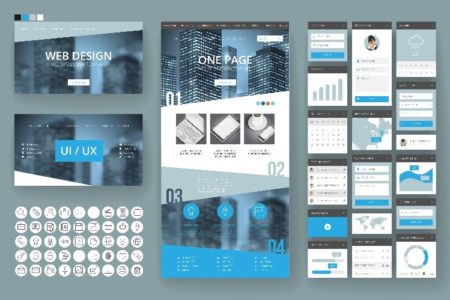 The web offers an indispensable worldwide channel to communicate a business' value proposition to target consumers. Enterprise websites are an important medium to promote products, services and even ideas. Furthermore, with an increasing amount of business being conducted online, it's safe to say that a business without a high quality website may find it difficult to sustain itself in the near future.
In the modern age, a website is the first point of contact with potential customers, so having a carefully designed website will help enhance your brand and increase customer acquisition. Moreover, an enterprise website goes beyond marketing and enables businesses to seamlessly conduct a large portion of operations online. These range from accepting orders and processing them to providing consulting services and answering queries to providing information through blogs or videos.
Owing to advances in web technology and the growing significance of enterprise web development, websites and web applications are only expected to become more innovative and will provide many more benefits to both businesses and consumers. Read further to learn how enterprise web development will improve your business prospects.
How Does an Enterprise Website differ?
Since an enterprise website is typically built for mid to large sized organizations, it requires many more features and tools than a regular website to cater to diverse needs. Furthermore, it differs in the type of content management system that is used.
The Enterprise Content Management (ECM) system that is used for enterprise websites encompasses several tools, components and features to meet the multitude of comprehensive requirements of various stakeholders (customers, investors, partners, suppliers and others). An enterprise website also requires branding tools and strategies, content development and management techniques like SEO and keyword rankings, storage management, software integration and much more.
While enterprise website design and capacity depend on the scope of business, enterprise websites are typically required to handle growing traffic, sudden spikes in demand, and need to be adaptable to expanding operations in the future. Thus, scalability is an important consideration as a website should be able to handle future growth without affecting site speed and user experience. Overall, an enterprise website is comparatively more complex and robust in order to accommodate the capacity and wide range of features necessary for an enterprise.
The design and implementation of an enterprise website is thus vastly different and requires comprehensive planning. Enterprise web development includes services that include but are not limited to UI and UX design strategy, database creation, content management system, site maintenance, customization, brand analysis and analytics set-up.
Keeping in mind the complex requirements and challenges of an enterprise website, it's important to carefully select an enterprise web development company that can address these complexities. In fact, it's highly recommended to opt for a company that can customize your organization's website after carefully taking into account the objectives, scope, long-term goals, vision, mission and value proposition of the business.
7 Website Features That Help Businesses Grow:
1. Well-Designed Site Layout
It should be easy to navigate and enable visitors to locate what they are looking for at a quick glance.
2. Responsive Design and Development
An increasing number of site visitors use hand-held devices like mobile phones or tablets to browse. A responsive design adapts to the user's environment including the screen size, platform and orientation by changing the layout accordingly. A website that looks pleasing, whether it is viewed from a mobile phone or desktop and loads fast on all devices (given that mobile devices typically have lower internet speeds than desktop machines), will appeal to all users.
3. What the Business Can Do for You
Clearly establish what the business' value proposition is and how it can help you.
4. Lead Generation and Interest
Generate leads from affiliate marketing, enquiry forms and strategies and techniques that are unique to your business.
5. Informative Content
Publish content that does not merely advertise your products but also provides information that the target audience is looking for.
6. Calls-to-Action
It's a good strategy to include clear calls-to-action to encourage customers to initiate contact. Making it easy for customers to contact you or purchase your product or service through clear calls-to-action is one of the simplest ways to improve conversion rates.
7. Analysis and Tracking
This is important so businesses can analyze data such a, demographics, consumer behavior, buying patterns, effectiveness of marketing and promotional strategies and other parameters.
Web-Based Enterprise Applications
Like enterprise websites, web-based enterprise applications are important tools in business. A web-based enterprise app is software that is designed for mid to large-scale businesses and can be deployed on the internet or intranet. Apps are built for different purposes, either for internal or external needs. For example, a firm may need a collaborative app for internal needs, such as, enabling staff based in different locations to connect and share project documents and information. Or a business may develop an app for external stakeholders such as, a simple order placement and fulfillment system. Or it may need an app for internal and external stakeholders to work collaboratively on projects and engage in forum discussions from different locations.
Moreover, apps need to interface to existing applications, databases and other technological entities for uniform access and seamless transfer of information. Since apps often contain and manage sensitive customer information, they also need stringent security measures to safeguard data, business information and processes. Working with a specialized custom software company is the safest route to take when deciding to build out web-based enterprise applications.
Advantages of Web-Based Enterprise Apps
1. Flexibility
Employees can access and send business information, regardless of where they are, making it convenient for employees who are traveling or working from home, to work with uninterrupted access and even take care of urgent business to ensure timely execution.
2. Marketing
More and more businesses strive to make the most of the online platform to promote and sell their goods and services and even complete transactions and operations online. Companies that build technological apps to satisfy organizational objectives gain a competitive edge.
3. Interoperability
Interfacing and integrating an app with other tools and systems promotes uniformity which in turn enables a high interoperability between various platforms, systems and devices.
4. Easy and Cost-efficient Installation, Deployment and Maintenance
Web apps can be developed in a single operating system, leading to cost efficiencies. In addition, they are hosted on a single server from where they are accessible to all users. They can also be maintained and updated from a single location that is uniformly accessible to users via the web.
5. Data Security
Since web apps are installed and hosted on secure and dedicated servers that are maintained by security experts, all business and customer data is kept secure.
The demand for custom web apps is only expected to grow in the future as more businesses strive to realize the benefits of a custom-designed app that is tailored to accommodate unique processes and objectives.
Emerging Web Development Trends
With rapid advances in web technology and a growing demand for enterprise web development, websites and applications are only expected to become more advanced and sophisticated in terms of their functionality, features and appearance.
Emerging web development trends like Accelerated Mobile Pages (AMP) and Progressive Web Application (PWA) will focus on delivering a more engaging user experience, great potential for SEO rankings, better cyber security, faster load speed and increased traffic. These trends will no doubt enhance business prospects by improving new customer acquisition and operations.
The web development industry is poised to grow in the coming years and lead to an increasingly competitive and promising digital space. Contact Bitbean to find out how a cutting-edge enterprise website that is custom-designed to suit your business's unique requirements will help your business gain a competitive advantage. We provide unmatched excellence in the design and development of custom-designed websites, apps and custom software.