Using existing software to handle a unique and growing process of ordering and distribution became problematic for Chasdei Lev, a nonprofit organization. The "off-the-shelf" ecommerce options available proved to be inefficient due to Chasdei Lev's very specific needs. Premade ecommerce software solutions fell short in their ability to be flexible and accommodate the needs of their participating schools, partners, and food listings that were a part of their giving program. Ordering was difficult and cumbersome due to inadequate or nonexistent listing features. In addition, the software was not able to facilitate in the quantity and types of orders, particularly relative to B2B transactions.
This challenge became increasingly clear for Chasdei Lev, who found their current processes to be slow and tedious. Entering orders that included an intense search of specific items among huge, mostly irrelevant lists of retail offerings created a time-consuming procedure. As their need for services grew, the frustration of a non-accommodating software grew with it.
Chasdei Lev provides deep discounts on food and household necessities during special Holiday seasons. But this means lots of orders come in at the same time and need a quick turn-around to meet delivery deadlines. Add dealing with private schools, manufacturers, and distributors to the mix, and the system becomes complicated. Because their ordering process is so unique and demanding, ready-made software out-of-the-box doesn't allow for efficiency. A solution that was specifically designed for their ordering/distribution model was not available on the market. So, looking to Bitbean as the next logical step was apparent to Chasdei Lev.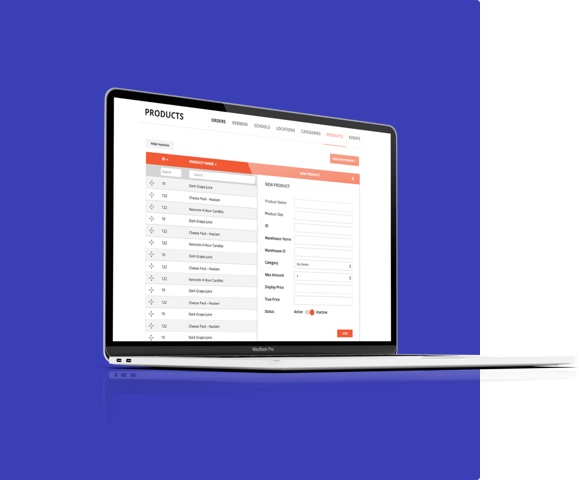 About Chasdei Lev
Chasdei Lev is a nonprofit organization committed to giving back to "teachers, and their families." These traditional "acts of kindness from the heart" are realized through sincere efforts to make a difference. As an organization who is driven to help support teachers, they acknowledge the value of those who are devoted to teaching our future generations. By partnering with private schools, manufacturers, and distributors, they provide Holiday season and special occasion food and necessities. They help fund the needed food and supplies through deeply discounted prices. This respectful gesture helps alleviate the stress and strain experienced by teachers to provide for their own families during special times of the year.
Fast, efficient, and accurate ordering a challenge
Giving back to those whose lifetime devotion is teaching children says a lot about Chasdei Lev. They realize that teachers in private schools (in this case yeshivos) may struggle at certain times of the year due to tight school budgets. To help facilitate a giving program that provides food and household essentials for special occasions, requires a lot of work. There's ordering food and supplies, purchasing in bulk, and distributing on one end. But there's also organizing and dealing with manufacturers to establish and reflect discounts and item availability within the program. All these processes come together to pass deep savings on to those who may otherwise struggle to observe special Holidays and occasions.
Using a standard ecommerce platform was too limited for Chasdei Lev's unusual organizational model. And as the program and orders grew, it became more obvious that the existing web portal was no longer acceptable. With over 100,000 caseloads of food to feed over 3,000 families, something needed to change.
Choosing Bitbean to help put all the pieces together with accuracy and efficiency required a system built from scratch. Such a system would handle teacher orders, provide an organizational platform, school administrative view, and facilitate logistics.
Challenges increase with Chasdei Lev's growth
The problems associated with using an ecommerce platform for Chasdei Lev was like fitting a square peg into a round opening. Using this option needed to be addressed with a customized solution in order to streamline processes and achieve efficiency.
Paper-based process
Although successful in providing adequate project management, the existing system relied heavily on paperwork from the beginning of the process to the end. Managers and technicians had to pick up and return various ticket forms to the back office for each assigned job.
Ecommerce platform
The existing ecommerce platform did not accommodate specific needs like certain types of food listings and essential items, and discounts from various retailers. In addition, it made specialized ordering procedures difficult for schools.
Better user experience
As time went on, it became more obvious of the need to eliminate the time-consuming process of browsing through different retailer lists separately. It became too tedious to search out each entry among huge item listings that contain a vast number of unrelated products.
Limited shopping cart
The old order entry process didn't allow for quick entry of specialized items.
Lack of specialized campaign management
The old system did not accommodate special campaigns that included specific time frames, Holidays, custom pricing, etc.
Lack of custom logistics
The high number of school and teacher participation leaves room for errors and problems with product distribution without a logistic solution.
No "client-facing" display
There was missed opportunities of increased efficiency without a school view of orders with custom settings to allow for teacher allotments, payments, order caps, etc.
Cyber security an issue
Chasdei Lev experienced problems with cybersecurity in the past.
Chasdei Lev benefits from built-from-scratch software
After evaluating the needs of Chasdei Lev to successfully process orders from participating schools, Bitbean opted for a complete rebuild. The primary goal was to streamline the process, add administrative functionality for Chasdei Lev, and provide each school with administrative solutions.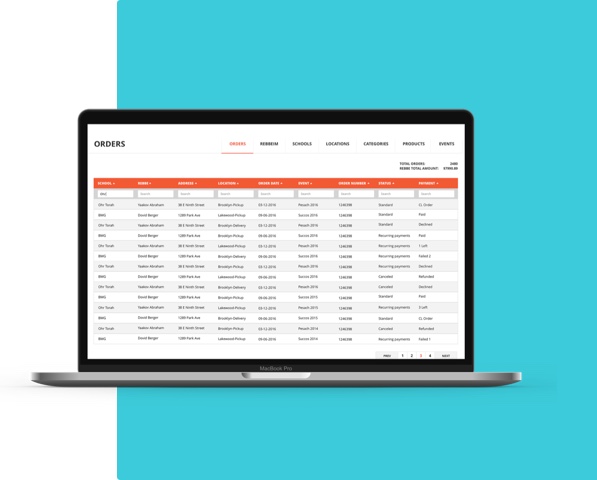 The new system's highlights
Streamlined processes
By revamping the entire backend infrastructure, Bitbean dramatically reduces the time and effort with improved order functionality.
Client-facing display
The design and development of a "school view" allows schools to place one overall order with ease. They are now able to find their own teachers in the system and place orders on their behalf. In addition, they are better equipped to administer the huge process of supplies distribution.
Specialized dashboard
Schools now benefit from a custom dashboard with special settings that include re-occurring payments and split payments. The dashboard also provides seasonal settings associated with specific dates (one campaign per teacher).
Administrative platform
Provides Chasdei Lev with an organizational view with settings for product listings, dollar caps, special item pricing, and more.
Safer, more secure system
Bitbean built a secure platform to protect client information and prevent data breaches from the onset of the project's development.
Custom-built interface
The existing web-based system was built using an old and outdated web program and therefore required a built-from-scratch API (interface) to work with the mobile application.
Better UX/UI experience
The intuitive, simple, and clean design of the platform greatly improved the user experience, particularly in processing orders.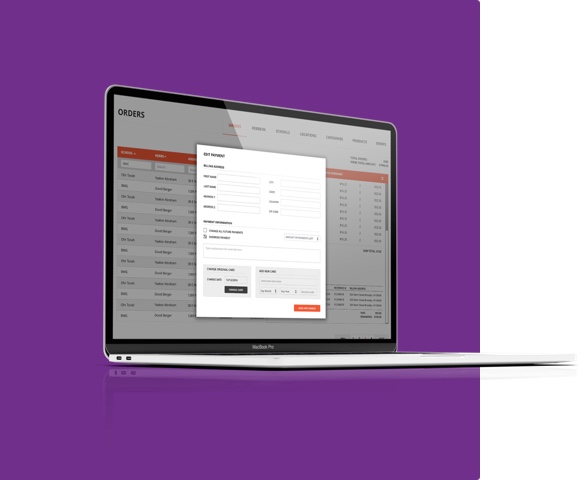 An improved system for Chasdei Lev is a win-win
The new system built for Chasdei Lev streamlined order entry processing and added administrative controls to manage logistics. But schools also benefited from a client-facing dashboard that provides a better system of administration of teacher orders and distribution.
In summary, the custom-built solution from Bitbean gave Chasdei Lev an efficient, time-saving process for schools to place orders for their teachers. By streamlining this order entry process, the organization can complete the same amount of effort 20x faster. In addition, the administrative platform gives Chasdei Lev an incredible leverage on program and logistics management. And the client-facing dashboard for schools makes the order and distribution process more manageable.