Riverside Abstract takes pride in reducing the time it takes to close a property deal. This is in spite of the inherent problems associated with transferring property from one entity to another, which can be tedious. Buyers, sellers, and real estate professionals participate in this last part of a real estate transaction. It involves a lot of steps, signatures, and documents. Missing data, price negotiations, changing critical information like taxes and fees and their applications, and vendor communications also make closing real estate cumbersome. Riverside Abstract sought to cut down on this time-consuming process to help satisfy customers and brokers.
One of Riverside Abstract's main goals is to offer their customers a closing process "with speed and confidence." But keeping this promise with a growing number of orders and with an inherently long process was becoming increasingly difficult. Existing software on the market fell short of their commercial needs. The need for customized software to match their business model and help improve existing processes was clear. Their objectives included: improved managing of the title processing flow, better invoicing/vendor communications, and an improved document management process. In addition, they needed a better way to handle user tasks, which served as employee reminders of what has to be done on an order, during and after the closing process. As these needs increased with the growth of their business, they turned to Bitbean.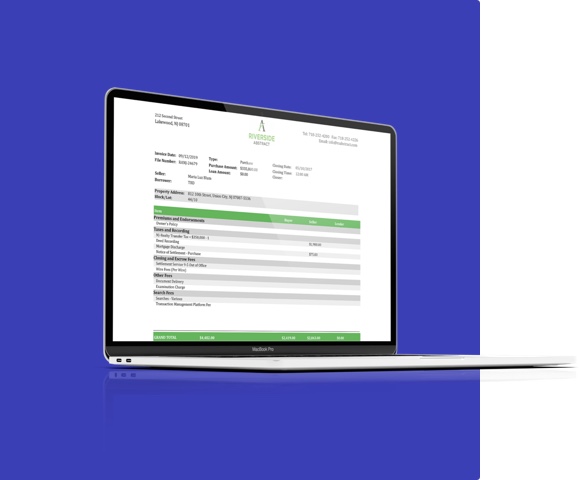 About Riverside Abstract
Riverside Abstract is one of New York's largest national title insurance agencies handling residential title and commercial settlement services. The real estate closing process is critical to their business and occurs on a daily basis. And to Riverside Abstract "every deal is a big deal." But each deal is unique and can vary based on vendors, documents, and accounting needs. In addition, each closing may have requirements and exceptions that relate specifically to the title for the property(s).
Riverside Abstract needed efficient software solutions
Giving excellent service is something Riverside Abstract is very passionate about. And when your business is largely about closing on real estate deals, excellent service translates to a speedy process that customers feel confident about. But when these processes are inefficient due to software that can't keep up and when you depend on vendors to perform their part, things can really slow down. These were some of the struggles Riverside Abstract encountered before partnering with Bitbean. It became increasingly apparent that, as specialists in their industry, they needed a more efficient and streamlined method of handling order entry and document reviews. Communicating with vendors more effectively to expedite closing needs was also an important key to trimming the time it takes to close.
With these needs in mind, Riverside Abstract chose Bitbean to provide a commercial "specialty" application that would improve the order entry process and simplify the many steps of closing and manage title-related data and documents.
Challenges with current software solutions (or lack of)
Meeting the many challenges involved in closing a real estate deal would require a customized solution by ramping up a widely used software solution by the real estate industry to:
Cut down on time-intensive order entry processes
Manual selection of underwriter and property addresses/information on new orders needed for verification slowed down the process.
Provide a better user experience
Sub-par user experience was a result of various employee profiles having to work on a single, generic interface.
Improve title functionality
Off-the-shelf functionality is limited for a thriving title company handling multiple orders a day.
Eliminate cumbersome, frustrating vendor communications
Vendor (searchers, abstractors, and closers) communication limited to emails made it hard to track an individual order document, price negotiations, etc.
How Bitbean addressed challenges with custom software
Bitbean's first order of business was to perform a thorough evaluation of Riverside Abstract's current systems, processes, challenges, and vision for improvements. Current off-the-shelf software fell short of streamlining an already lengthy process. Bitbean's customized software solution, on the other hand, brought simplicity and efficiency to the closing process by zeroing in on the specific pain points. The enhanced software's order entry process provided dedicated interfaces for employee profiles, improved title functionality, and included flexible, integrated document management. In addition, vendor communication was improved and more effective through a robust web platform. The solution required a unique, specialty product to match Riverside' Abstract's niche in the market. So, Bitbean took a popular software product and rewrote it, preserving the ledger fidelity, and embellishing the solution to suit their needs.
Customized software solution highlights
Improved order entry
Order templates with predefined configurations were created to save employees a considerable amount by simply choosing a template that autofills information. Quick address verification via integration with Corelogic, automated underwriting selection, and the ability to reuse data across multiple orders sped up an otherwise time-intensive process.
Focused interfaces for each role
An intuitive dashboard is now customized for each department with screens and functionality grouped and organized based on their specific departmental needs.
Smart invoicing and accounting
Bitbean's system features title-focused functionality to list fees and all-inclusive fee bundles including the ability to automatically calculate taxes. Order fees are easily tracked and traceable to responsible parties. The software handles all forms of payment, one lump sum payment, and bank reconciliation.
Seamless vendor communications
Customization allows for easy integration with outside vendors who can view data on website and update their information as needed. Orders are tracked via automation and price negotiation features allow vendors to submit override requests including user approval/decline.
Flexible document management
Provides better functionality by generating latest versions of template-based documents while blocking docs with missing data. Also allows for quick refreshes to update documents.
Manage commitment data
A customizable administrative section for users to create data sets based on profile and state save employees time as these sets quickly populate orders.
Riverside Abstract sees improved revenues with customized solution
Creating a smooth, accurate, easy title processing flow is crucial to accommodating multiple daily orders. Whether residential titles or commercial settlements, Bitbean's customized software gives Riverside Abstract the edge over the competition with a solution that is better aligned to their specific needs.
In short, the customized software provides an improved order entry process that allows for data reuse. It increases and improves title functionality with dedicated interfaces that connect user profiles, enhance vendor communications, and improves document management. The enhanced software translates into improved revenues, higher profits per client, and a satisfied customer base.