There are many choices for businesses looking for shipping solutions to deliver their goods locally or across the country. But finding a simple way to compare freight carriers, different shipping options, and their rates can be challenging. It requires contacting shippers individually and, in some cases, having to create an account for each one to generate a rate and then manually make a comparison. This manual process to obtain the best shipping rate whenever a freight carrier is needed takes time and still may not guarantee the best price. This tedious and frustrating process is what Prompt Logistics set out to change for its customers.
So, Prompt Logistics' objective was to provide customers with an easy-to-use online system to compare and select the best shipping options. In addition, Prompt Logistics provides its customers with better shipping rates by passing on their commercial savings from carriers. This is due to their high volume of shipping as a third party acting on their clients' behalf. The idea was to display these savings in an instant quote through an online interface. But making this goal a reality proved to be a challenge in and of itself.
Creating a user-friendly, simple, and pain-free system required the integration of freight carrier data into one easy-to-use online platform. Prompt Logistics' objectives included: providing a seamless integration for their business clients (users) with partnered freight carriers, instant rate quotes and comparisons, passing on best rates, and a simple order process. More importantly, they wanted their customers to be able to achieve all of this in a click of a button.
Prompt Logistics' unique business model and their relationships with freight carriers required a custom software solution to yield their customers optimum results. Bitbean was brought in for the build to create a convenient, integrated platform that provides users with a simple, easy-to-use way of transporting their goods.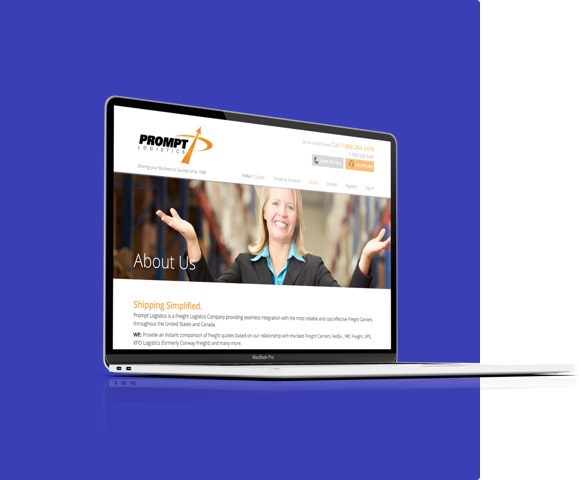 About Prompt Logistics
Prompt Logistics is a freight logistics company that has provided customers with shipping options from the "most reliable and cost-effective freight carriers throughout the United States and Canada" for over 30 years. Their relationships with "the best freight carriers" include such reputable names as FedEx, YRC Freight, UPS, XPO Logistics (formerly Conway Freight) and many other companies.
Prompt Logistics handles all the shipping details for businesses who want to be sure they are getting the best shipping method and rate. Their success comes from providing value and convenience to their customers by doing the comparison research and making the shipping arrangements.
Prompt Logistics needed to streamline quote process
The partnerships that Prompt Logistics developed with reliable, top-rated freight carriers is one of the reasons their business model has been so successful. They promise customers low, highly competitive rates, safe and prompt delivery of goods, and top service. By bringing together multiple carrier options, customers can be assured they are getting the best method and rate for their transporting needs.
To make this a user-friendly, shopping-type experience and convenience for Prompt Logistics and their customers would require a custom software solution. The updated process would have to allow for instant quote capabilities generated from freight carrier data. A process to integrate all of the shipping-related data would be required. By pooling this information together through a custom API interface, customers themselves can simply enter a minimal amount of information to instantly have access to an array of available shippers and their information. Bitbean found the right solution and set out to make instant quoting a reality for Prompt Logistics by developing an online rate engine.
Prompt Logistics lacked user-friendly process for customers
The idea behind an instant rate quote first requires analysis of the current system in place that fosters a slow, tedious process.
Getting freight carrier information
By revamping the entire backend infrastructure, Bitbean dramatically reduces the time and effort with improved order functionality.
Customer information and package details
Before a price quote could be generated, information about user's location, zip code, pickup and delivery sites, dates, number of containers, and size/weight of goods would need to be provided to carriers. Without an online user form, providing this information to each carrier was time consuming if submitted separately and any missing details could affect results and accuracy.
Comparing carrier rates
Once shipping rates were received by each freight carrier, the manual creation of a chart or page including rates, various methods/options, and carrier information would need to be completed for comparison.
Carrier selection and order placement
Without one place to obtain and place orders, once a selection was made, an order needed to be placed in a separate transaction, adding more time to the overall process.
Shipping history
If different shippers were used and previous order information/history was needed, the details about each users' history would need to be obtained from each carrier and then compiled.
Limits of commercial interface
Although Prompt Logistics has access to a commercial interface with carrier information/rates, etc., they don't have the benefit of an overview of all their clients' shipping activity in one place.
Bitbean integrates technologies to bring instant quotes to Prompt Logistics' customers
By integrating freight carriers' data and allowing customers to directly access an online rate engine, Prompt Logistics added value and convenience for clients while benefiting from efficiency and time-saving processes.
Client information
Businesses (users) create an account to begin the process of receiving instant rate quotes. Once this information is in the system, it will automatically be generated for future quote requests and can be edited by users at any time.
Request for quote
Dropdown menus and easy selections provide users with convenient choices on business pickup and delivery zip codes, location details, type of goods and packaging, quantities, weight, dimensions, freight class, etc. to quickly generate quote request.
Instant quotes
Once user's information for shipping quote request is entered, a submit button instantly (in 60 seconds) generates the quotes and transit times from applicable freight carriers within the system. Users can save, email, and/or print quotes.
Easy edits
Packages can be easily added or removed from quote request.
Place shipping order
Users can immediately act on best quote by selecting chosen carrier and rate.
Address book
User can add contacts at any time to address book for future shipping.
User package delivery history
Packages that user sent before will be listed on the delivery history page.
Admin dashboard
Allows Prompt Logistics employees to manage user page and users by adding or deleting information. In addition, they have access to all users and their shipping history.
Instant quotes generate quick business
For Prompt Logistics, the ability to provide businesses with instant quotes for shipping needs put them ahead of its competitors. The ability to quickly select a carrier to place a shipping order and transport goods is now an easy process.
Bitbean's custom interface that includes the integration of Prompt Logistics' carrier partners for direct use by its customers transformed a previously manual process into a simple one.