It's no secret that mobile apps generate tremendous revenue and widespread smartphone usage has further enhanced their potential. But how do mobile apps generate income? There is a variety of mobile app revenue models today that app developers can choose from to enhance profitability. Models differ in terms of their monetization strategy and, unfortunately, there is no one-size-fits-all model that can guarantee success for every business. You need to choose carefully based on the business vertical and nature and type of app. It all really boils down to careful selection of the model, strategic app design and well-planned deployment of the chosen model.  
The mobile app design process begins with selecting a great app model before launching the app to the public. However, that doesn't mean that you cannot modify or iterate post-launch as you go along and find what works best for you. For maximizing your app's profitability, you can even combine two or more models, depending on your requirements and type of business. With rising popularity and usage of mobile apps, there is no doubt that newer apps will be created, which will understandably lead to more innovative models.  
Which is the Right App Model for You?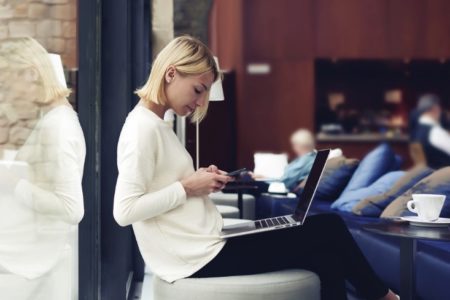 According to Statista, in 2019, the gross worldwide mobile app expenditure is projected to be as high as 120 billion U. S. dollars. If your business hasn't already taken advantage of the promising revenue models, it's time to do so. To ensure that you select the right model, we've compiled the features, pros and cons of the most bankable and popular app models that are being used by app developers today.  
App Design
 Questions to Consider
App models differ with respect to how and most importantly when they generate revenue. At what point in the user's interaction with the app, does it generate revenue? Are users, advertisers, or sponsors the source of monetization for the parent company? To identify the most profitable app design for you, consider the following questions: 
What is the nature and type of my business?

 

Wh

at need is my app serving? 

 

I

s 

my offering 

attractive enough to keep 

users

 engaged?

 

Is there anything else I can supplement my primary offering with?

 

What other need

s

 can my app serve?

 

How do I distinguish my offering from that of my competitors?

 

Which app models can I combine to achieve the desired profitability?
With those questions in mind, consider these 6 bankable app models in use today. 
1. Free (Get Used to the Ads)
The most common revenue model is the 'free' type. Users can download and use the app for free. To make this work, the app has to secure a large user base in order to accumulate user data. The user data is then shared with advertisers who place targeted ads based on the analyzed data. 
This is the most traditional and oldest type of revenue model that has been in common use. It is a successful app design model because it benefits all three parties. Users benefit from the free usage. Advertisers get exposure and access to user data, which is a gold mine in today's digitalized world. And app developers earn advertising revenue. 
Advantages 
It's a tried and tested model and is in fact one of the oldest revenue models that has 
given positive results
 in the mobile landscape. It is the most common 
and popular 
way for apps to 
be profitable for developers
. 
Most users
 are willing to try free apps, 
so it's easy to conquer 
a wide user base
.
Disadvantages 
App developers need to be careful 
to
 not 
allow too many ads as it can tremendously slow 
down 
the app, which 
can
 disrupt the overall 
user 
experience, 
probably 
lead
ing
 to app churn.
Ads can terribly spoil the user experience. 
W
hile most users are willing to tolerate ads
 (
which they find annoying
)
 for free usage, the limited screen 
space is 
reduced further
, downgrading the overall 
design and experience of 
the app
.
2. Freemium (Basic Services are Free but Pay for Premium Ones)
Freemium is another popular revenue model. This model is a classic example of a 'getting your foot in the door' strategy. Users can download the app and use basic features free of charge, helping the business to acquire a large user group. Furthermore, while experiencing the feel and basic functionality of the app, users engage with the app and their interest increases. After the initial engagement, the hope is that users will pay for premium features. 
Advantages 
With its free download and usage strategy, t
h
e Freemium 
model is able to garner a wide user base
.
The model helps 
generate interest and 
increases 
user engagement 
by allowing 
users to experience the app
 and its basic features.
It's 
truly
 versatile as almost all business verticals can adopt an
d profit from it, 
with careful planning
.
Disadvantages 
The app has to be designed and planned 
carefully for it to 
generate income
. I
ts strength lies in its ability to generate interest and engagement to the level that users 
would be
 willing to pay for
 additional features
. 
T
he app needs to allow an optimum number of free features – low enough to drive users to pay for additional features and high enough to generate interest by giving them a preview of 
the full potential of the app that
 they 
can access if they 
become paid members. 
3. Paid Apps (Pay to Download)
This can be a great revenue model provided the app offers value that free apps don't. Developers need to be confident of the quality of their app and the marketers' ability to entice users to purchase it, without a preview or trial version. To sell through this revenue model, the product has to be unique and should be launched with great app promotions. It should be marketed with a great app listing that includes a preview in the form of screenshots and star ratings. Conduct thorough research to determine what similar free apps are offering so you can take your offering to the next level to justify the charge. 
Advantages 
Offers a c
lean interface a
nd an 
unintrusive
 user experience a
s it 
does
not 
rely on in-app advertising to generate income.
Due to the need to set apart 
the app
 from similar free apps, focus is on enhancing qu
ality, 
lead
ing
 to a better product 
offering.
Disadvantages  
Paid apps compete with countless free apps that 
may 
offer a similar service or product, making it really challenging to acquire customers. Paid apps need a 
Unique Selling Proposition (USP)
 to attract paid members. 
App developers typically have to s
hare a part of the
ir
 revenue (30%) with app stores to pay for the app listing.
4. In-App Purchases (Download for Free and Make In-App Purchases)
The 'In-App Purchases' strategy allows users to download and use the app for free. However, it generates the majority of revenue by selling virtual goods within the app. In this model too, the app needs to be of exceptionally high quality to retain users' interest. It is commonly used in gaming apps to pique the interest of users to the extent that they are willing to pay for in-game currency or advanced functionality to advance to the next level. The strategy used here is compelling users to pay at a critical point when they have engaged so deeply with the game that they are willing to pay real cash for in-game bonuses. This revenue model achieves the desired outcome only if the app can generate a deep enough engagement or interest that can be cashed by developers.  
Advantages 
Since the model uses mobile apps to sell goods, real or virtual, it doesn't have to bear expenses of 
a traditional retail
 store
.
 Disadvantages  
Due to complaints from parents of kids making 
too many 
in-app purchases, there is tighter regulation on this model.
It's challenging to entice users to pay for additional features or game currency or extra lives, in case of gaming apps.
5. Subscriptions/Paywall (Subscribe for a Periodic Fee)
As the name suggests, this model requires you to pay a weekly, monthly or yearly fee for access to additional content after consuming an established quota of free content. It typically involves a recurring fee which users are willing to pay for continued access to especially high-quality content. 
Advantages 
Allows businesses to generate a recurring stream of income
.
Disadvantages 
It's challenging to determine the amount of services or content that should be provided for free. Too little free content may not lead to sufficient interest. Too much on the other hand can hamper profitability. 
Each of these bankable app models work differently and can garner different results. It would be wise to choose prudently and only after careful deliberation.  
We hope this guide on the most bankable app models assists in your search for the model that best fits your business requirements. Bitbean is a custom software and mobile application development company that develops mobile apps utilizing the latest app technologies and even provides customized mobile app services. Contact Bitbean to speak to our expert staff of custom app and software designers.