Increasing number of people all over the world spend more time on their Smartphones today than on any other device, excluding the time they spend at work (hopefully). It's no wonder then that mobile phone usage has seen a tremendous surge. Datareportal announces in its 2019 digital reports that the number of unique mobile phone users has increased to 5.11 billion as of January 2019, up by 100 million users in the last year. It further states that 3.26 billion people use their mobile phones to access social media, in January 2019, with a yearly increase of more than 10 percent.
The staggering number of people who use mobile phones indicates the significance that mobile application development will have in the coming years. As mobile apps advance to support increasing number of users with advanced functionality and features, mobile application architecture will also undergo transformation. Here we focus on the top 7 promising mobile app trends of the future.
Most Promising Future Mobile App Trends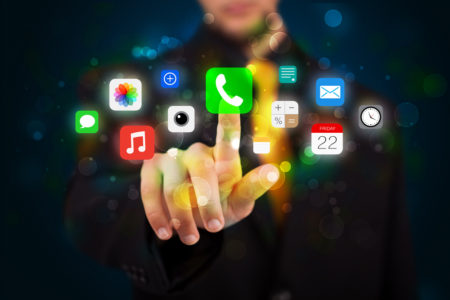 1. Internet of Things (IoT)
One of the highly influencing mobile app trends will be the use of Internet of Things or IoT as it is commonly referred to. IoT is the revolutionary technology that allows gadgets to communicate amongst themselves via the internet to provide personalized services to you that will be based on learning your daily routine, preferences, and needs. IoT also runs wearable devices like Fitbit and Smartwatches. Furthermore, it powers all 'smart' devices such as, smart thermostats, smart bulbs, smart TVs, and many more!
In simple terms, it is the life transforming technology that will assist in carrying out our day-to-day activities through devices connected over the Internet. Many other devices like toys, home appliances, medical devices, and sports equipment are expected to be connected via IoT too.
In the near future, devices are expected to communicate via apps on the Smartphone, including social network and M-commerce apps. IoT will help manage most routine tasks like ordering items that you've run out of, renewing your yearly subscription for streaming services, playing music, and many more!
It's expected to gain increasing prominence soon as an increasing number of app development companies are gearing towards producing wearable devices, which in turn will cause a rising demand for apps for wearables. Furthermore, like its integral role in wearables and smart devices, it will play a huge role in defining and powering mobile apps. IoT shows tremendous promise in other fields like retail especially, where IoT devices will typically order replenishments and other important items too.
 2. Progressive Web Apps (PWAs)
Progressive Web Apps will further enhance mobile app development by giving users an enhanced user experience driven by a wide range of features and improved functionality. Mobile apps need to catch up with native apps and with PWAs, this will soon become a reality. PWAs will provide an immensely engaging and responsive experience that is on par with the latter. PWAs will also enable development of cross-platform apps. Furthermore, PWAs will augment the user experience through push notifications to increase user engagement and by providing a fast and responsive interaction on any device, be it a mobile, tablet, or laptop, among others. Furthermore, PWAs provide safety and security as these are served via the HTTPS protocol that provides excellent data security. What's more, PWAs don't require complex installation and are designed to work on slow networks and even in the offline mode.
All in all, PWAs are expected to contribute to the advancement of future mobile apps by providing a considerably enhanced user experience through speed, responsiveness, advanced features, and added safety and security.
3. Augmented Reality (AR) & Virtual Reality (VR)
The finest examples of AR and VR are Pokemon Go, Instagram, and Snapchat and with the worldwide success enjoyed by these three applications, one need not emphasize the significance of AR and VR. It's without a doubt that AR and VR are set to drive the ongoing development of mobile applications by setting new standards.
Unlike in the past, AR and VR are not limited to a few handful industries like tourism and hospitality, gaming, real estate, or even social media apps. These technologies will help revolutionize other sectors such as, retail, education, engineering, and healthcare, and of course mobile app development!
Users today are waiting for more engaging experiences with cross screen functionality and more and more apps will be built to repeat the success of Pokemon GO, albeit with a different idea.
Moreover, Augmented Reality and Virtual Reality will continue to drive innovations in social media apps, especially designed for Smartphones. AR and VR also show tremendous potential in design of store apps for several consumer industries like furniture, clothing, and typically all stores that rely on ecommerce. AR and VR will continue to redefine mobile application development and will rule the list of defining mobile trends of the future.
4. Artificial Intelligence (AI) and Machine Learning
Artificial Intelligence has been around for some time and in fact has been quite the buzz word in the tech industry since the last few years. AI is one of the most advanced technologies and it's no surprise that it has been the backbone of hugely successful virtual assistants and chatbots, the prime example of which is Siri.
Artificial Intelligence, as the name suggests, is the ability of a machine to think and learn by virtue of which it can perform human tasks. AI combines many technologies like Natural Language Processing, Machine Learning, and Machine Vision, among others. AI and Machine Learning go hand-in-hand to contribute to highly advanced mobile apps that vastly improve the user experience. Furthermore, the demand for more 'intelligent' chatbots and virtual assistants will be fulfilled by the application of artificial intelligence and machine learning in the development of futuristic mobile applications.
 5. Cloud-Based Mobile Applications
Just like companies have moved to cloud-based storage to store vast amounts of data on remote servers, from where employees can access data in a fast, secure, and reliable manner via the internet, so are mobile apps depending on cloud technology to store apps and related data so users don't have to store apps on their mobile phones anymore. Some of the best examples of cloud-based storage are Google Drive and DropBox.
Cloud-based mobile applications aim to resolve the problem of limited storage space of mobile devices by allowing users to store the app and its data on a cloud, that is, remote server. Users can access their app situated on the remote server via the internet, regardless of where they are. Cloud-based computing will lead the way in mobile app development as a rising number of users look forward to apps that don't take up space on their devices. This trend would translate into more freed-up space for users, which in turn will enhance their device performance.
Most importantly, cloud-based mobile apps will improve the user experience by providing faster loading and allow users to store vast data on the cloud. For the organization it will translate into increased customer retention and ease in operations while lowering costs. What's more, cloud-based technology is fast, secure, easy to deploy as it is hosted and updated on a remote server, and also translates into substantial cost savings. More and more apps will be developed on the cloud in the future to make the most of its benefits.
6. M-Commerce
M-commerce, which simply translates into commerce transactions conducted over mobile devices, has been on the rise already and is expected to surpass the amount of retail and e-commerce app sales in the coming years. Many ecommerce giants like Amazon, e-Bay, Flipkart and even social media companies like Facebook and Twitter have already woken to the promise of mobile sales, restructuring their websites to load faster on Smartphones so users enjoy a smooth buying experience over their mobile phones. All around us, we see the trend of increasing number of transactions being conducted over mobile phones.
As M-commerce continues to drive the trend of future mobile apps, it is set to completely transform the way we do business, by integrating more closely with payment gateways and even wearables that will soon be designed to process payments. Soon, M-commerce will be powered by seamless financial transactions that take place without credit/debit cards or cash. M-commerce apps go beyond merely allowing users to buy on their mobile phones, delivering instead an end-to-end customer service that meets all consumer requirements, including resolution of customer queries, among others.
7. Mobile Wallets and Payment Gateways
With the rising M-commerce trend, mobile wallets and payment gateways are expected to see a huge surge in demand. Customers expect a seamless, safe, and secure payment gateway that is as fast as it is reliable. Apps need to deliver on this trend by providing app users with mobile payment channels that have a secure encryption.
Mobile wallets are also experiencing widespread usage as we move away from traditional payment methods like debit or credit cards. For the uninitiated, mobile wallets are nothing but mobile phone apps in which users store their banking information, enabling quick financial transactions in a safe and secure environment. Owing to their ease and safety, mobile wallets may soon replace all other modes of payment, making it possible for us to conduct all transactions without having to resort to physical cash. Lastly, owing to the ease of using mobile wallets, more and more businesses will make it a part of their apps in a bid to increase their base of returning customers.
Future of Mobile App Development
A combination of the top trends discussed so far and some others like Android Instant Apps and On-Demand Apps is expected to usher in a new era of Smartphone apps that are powered by advanced technologies like Artificial intelligence, Augmented and Virtual realities, and Internet of Things, among others. Innovations in mobile architecture and design and mobile application platforms will further propel advancements in mobile apps, further enhancing the user experience and increasing customer retention for businesses.
As more businesses make the most of the business advantages offered by mobile apps, make sure your organization too reaps the benefits of promising future mobile app trends by updating your mobile app or better still having a new mobile app custom designed for you.
Bitbean uses the latest technologies to deliver customized mobile apps that will assist you in meeting your business objectives and increase customer acquisition and retention. Contact us to speak to our staff, who is highly skilled in evaluating your requirements and ensuring that you have the custom software or app that exactly matches your needs. We would love to hear from you!