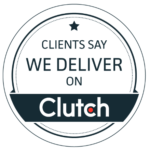 At Bitbean, we strive to build powerful, custom enterprise software solutions to automate business processes directly resulting in optimized workflows and higher profits. Our experienced engineering team is dedicated to creating impressive and innovative solutions for our wide range of clients around the globe. We focus on developing products that successfully help launch our clients' businesses forward.
That may just sound like a mouthful of business jargon, but it's what we work so hard to succeed at every single day. And when our employees excel, it certainly feels good to be recognized.
We've been featured by Clutch, a ratings and review platform based in Washington, D.C. covering web, software, and mobile app development services companies like us around the world. Even more excitingly, we were highlighted among the top Philadelphia app developers on Clutch.
What makes Clutch reviews so legit?
Reviews, companies and clients are each vetted very thoroughly before being published on the website.
Clutch's work examines thousands of companies based on their market presence, industry
experience, and proven ability to deliver excellence and results to their clients.
Clutch analysts consider many quantitative and qualitative factors when evaluating companies. Most
importantly, dedicated Clutch analysts speak with clients on the phone to hear first-hand how
each firm performs and delivers. This full-circle methodology gives users and buyers a realistic
understanding of each service providers' strengths and weaknesses.

So far, we have received five five-star reviews from our clients on our Clutch profile! Below are
some excerpts from our happy clients:
"Bitbean really strives to understand our core business and not just the programming aspect of
it, which has benefited both of us. By understanding the core business, they recognize why we
are building certain features and can then come back with the right feedback and suggestions
based on their understanding of where we want to get to and why."
– COO, Eastern Union Funding
"The value they bring is their expertise and their extremely creative people and independent
thinkers who help you plan what's best for your business. If the best solution is to build
everything custom, then they'll do that. If the best solution is to build some of it custom and
some of it off-the- shelf, then they'll do that. They're going to build whatever is best for you,
and I completely believe that and have experienced it with them"
– President, Jet Catering Company
"I was impressed with their honesty and their discovery process. Their discovery process is very
exhaustive and doesn't leave anything out. They're pretty skilled at understanding business
needs."
– CTO, Real Estate Firm
We're thrilled that our clients have been so impressed with our work and are willing to provide
glowing reviews on Clutch. We look forward to growing our Clutch presence in the future!
–