Thanks to our stellar commitment to our clients and by providing them with the highest-quality work, we're thrilled to announce that we've been selected by Clutch, a B2B ratings and review site, to be among their Top Google App Engine Consultants for 2020.
In today's competitive online economy, there has never been more digital services companies to choose from. In fact, as of 2018, there are reportedly over 23 million software developers worldwide - with more than 4 million additional expected to arrive in the market by 2023. With so many options to choose from, why should you or your company trust Bitbean.com over the competition? We realize the importance of choosing the right company. This is why we employ a wide range of analytic talents that directly facilitate the building of powerful custom enterprise software. The type of software that helps build businesses by providing greater efficiency, productivity, and profitability. With minimum time to market and unparalleled customer experience, our custom-built apps ensure that your business' digital presence stands out from the global competition.
We've successfully completed projects that have involved companies such as CardCash, Eastern Union, Riverside Abstract, Prompt Logistics, Walmart, CVS, United, and a slew of others. And although our track record speaks for itself, we appreciate the fact that our work is recognized. For three years straight including 2016, 2017 and 2018, Bitbean ranked on the prestigious Inc. 5000 list of the fastest growing private companies in America. Bitbean is also listed on Clutch's 1000 List of Top Companies Around the Globe in 2019 as well as being named a 2019 Top .NET Developer in New York and 2019 Top Developer in New Jersey.
Being chosen as a 2020 Clutch Leader reaffirms our commitment as a company to help businesses grow exponentially. - Ephraim Arnstein, CEO of Bitbean
Clutch is a market research firm where businesses can find detailed reviews from former clients to compare and contrast the best B2B companies across a variety of industries. Clutch analysts evaluated and ranked each company based on market presence, work quality, services offered, and client feedback.
Check out our succinct review below: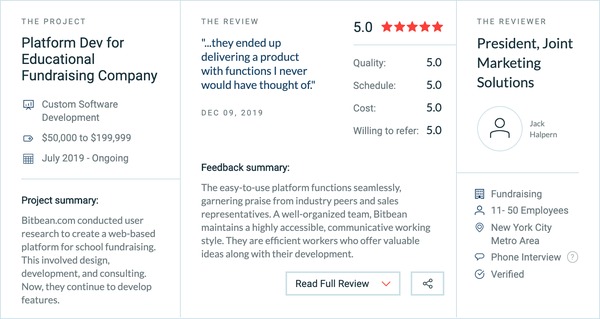 Upon receiving this prestigious award, we'd like to give a shout out and special thank you to all our clients that took part in interviews on our behalf to assess our impact on their day-to-day operations. So, whether you're looking to hire an experienced UX, web development, or mobile app assurance expert, or have any other custom software development needs, Bitbean.com is here to help. Don't hesitate to reach out to us today!